CASTING DIRECTOR SHIVAM GUPTA HONORED AT YELLOWSTONE INTERNATIONAL FILM FESTIVAL FOR "OUTSTANDING ACHIEVEMENT IN CASTING"
CASTING DIRECTOR SHIVAM GUPTA HONORED AT YELLOWSTONE INTERNATIONAL FILM FESTIVAL FOR "OUTSTANDING ACHIEVEMENT IN CASTING"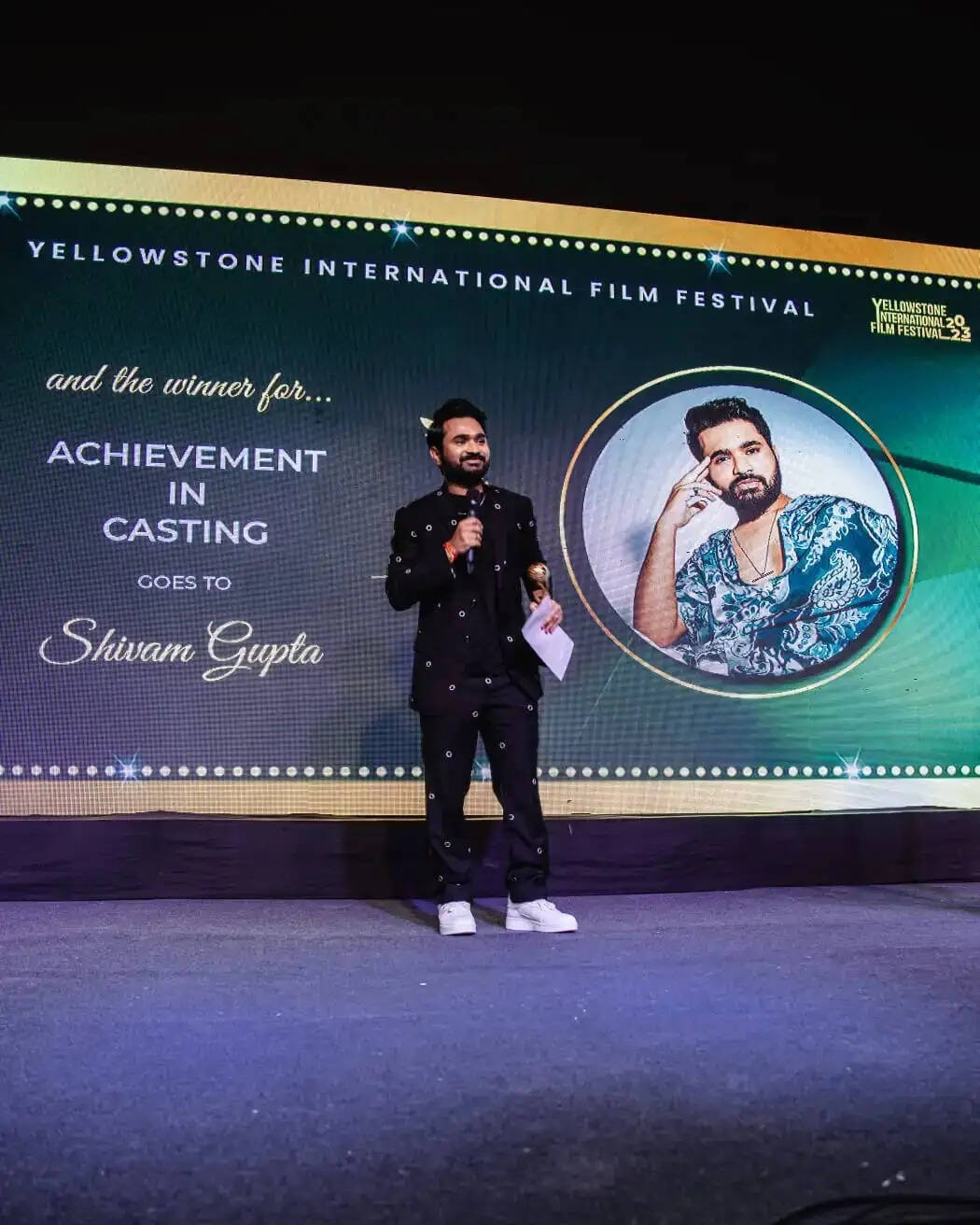 The world of cinema stands testament to the talent and passion of individuals who work tirelessly behind the scenes to bring life to our favorite films and series. One such exceptional talent, Casting Director Shivam Gupta, has been recognised at the Yellowstone International Film Festival for his "Outstanding Achievement In Casting." This prestigious accolade underscores his remarkable journey in casting that spans half a decade.
Shivam Gupta began his journey as a Casting Assistant, contributing his casting prowess to films like 'Daddy' and 'Trapped.' Over the years, his dedication and unwavering commitment to his craft have seen him associated with a multitude of projects, including 'Qarib Qarib Single,' 'Raid,' 'Batti Gul Meter Chalu,' and the second season of 'Sacred Games,' among many others, as an Associate Casting Director.
What sets Shivam apart is his relentless pursuit of breaking conventions, innovating, and experimenting with casting methods to curate the most suitable cast for each project. His approach is rooted in a deep understanding of characters and their underlying motivations, which aids in a meticulous evaluation of aspiring actors for their roles.
Shivam Gupta goes the extra mile to ensure the success of the projects he takes on. Once the cast is finalized, he continues to support directors on set as an acting coach and workshop director, ensuring that the chosen actors bring their best performances to the screen.
Notably, Shivam Gupta's portfolio includes projects associated with and distributed by prominent OTT platforms such as Netflix, Amazon Prime Video, Voot, and Hotstar. His ventures promise to be nothing short of exciting:
- "Sirf Ek Banda Kaafi Hai"
- "IKROOP" (produced by Offside Entertainment)
- "Asur – Season 2" (directed by Oni Sen and produced by Bombay Fables Productions)
- "YE KAALI KAALI AANKHEIN" (directed by Siddharth Sen Gupta for Netflix)
- "DAHAN" (directed by Vikrant Pawar for Hotstar)
- "Chacha Vidhayak Season 2"
- "Bhaiyya Ji"
- "Slum Golf"
- "Chalo Koi Baat Nahi"
On receiving this prestigious award, Shivam Gupta expressed his gratitude, stating, "I am truly honoured to receive this award for 'Outstanding Achievement In Casting' at the Yellowstone International Film Festival. Casting is not just a profession for me; it's a passion, a journey, and a labour of love. I am thankful to all the directors, actors, and my incredible team for their constant support and collaboration. This award is a reflection of our collective dedication to the art of casting. I look forward to many more exciting projects in the future."
Shivam Gupta's journey from a Casting Assistant to an Award-Winning Casting Director exemplifies the power of dedication and innovation in the world of filmmaking. As he continues to shape the industry with his talent, it's safe to say that we can expect more outstanding achievements from him in the future.